Social media is awesome. Keeping in touch with people you love, getting support from epic business groups and of course wasting inordinate amounts of time watching cat videos… or maybe that's just me?!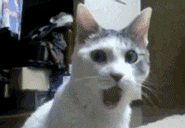 It's also fantastic for running competitions and giveaways. It's so good in fact, that some people forget that running a competition on your website, or at least promoting the hell out of it on your website, is an option. So here's 3 reasons (among many) why your competition should have its own landing page on your website.
1. To build a better relationship with your audience.
If you've done your strategising and planning correctly, the people who enter your competition are also the people who believe in what you do and want to support your business – so make it easy for them to do so.
Create a landing page for your competition on your website where your audience can find out more about your competition and your business all in one place. If it's relevant, keep your entry method on this page too – for example enter your email to win, answer this question to win etc. You can even embed social media 'like' and 'follow' widgets. Once on your website, they can then subscribe to your newsletter, learn more about you on your about page, read your blog posts and even get in touch with you.
That's heaps more than they can do on your Facebook page. Plus there's no notifications or cat videos competing for their attention…
2. To create a 'competition HQ'.
Need somewhere to house the terms and conditions? Want to go into more detail about the epic prize on offer? Create a competition HQ on your website – a landing page where you can direct all questions and promotional posts to for more information.
A competition landing page also has the added bonus of increasing brand awareness for your business as the page will be heavily branded in your fonts, colours and bear your logo instead of the logo of whichever social media channel you're using.
When the campaign is closed, your social media posts promoting your competition will still be available and people may click through out of curiosity. So take a leaf out of Mountain Bikes Direct's book and repurpose your landing page to celebrate your winner and post some pictures of them enjoying their prize. Who doesn't love to see the the real life winner of a competition (even if they did win the prize you desperately wanted to win)? 
3. To put your users first.
You might think that turning your homepage into competition central is a smart idea – all that extra traffic will surely make Google pay attention and rank you on page one, right? Well, who really knows. Google's algorithms are more closely guarded than Fort Knox's gold stash, but one thing's for sure – it will be really confusing for your entrants and that's a bad thing.
A dedicated landing page (as opposed to repurposing your homepage) signals to your users that the page is all about your competition. They should be able to enter the competition here (or at least find instructions on how to), learn why you're running your competition, find out a bit about who you are as a business and most importantly – what's in it for them. What they can win.
This is not to say that you shouldn't promote your competition on your homepage with a big shiny banner – you should definitely do that – but more to encourage you to have a separate, dedicated competition landing page.
Competition landing pages are a great way to build a deeper relationship with your target audience and potential customers as well as make it as easy as possible for them to find the information they need to enter your competition. It's a much neater way to keep all of your competition info together plus reinforces your brand awareness – it's a win win.
If you're sat there thinking 'well that's all well and good but I can't build landing pages!' then don't panic. Get in touch with us and we'll be happy to help you create a wildly successful landing page that converts visitors into entrants.